Fat Grafting 101
Posted on March 5, 2020
By: Dr. Asaf Yalif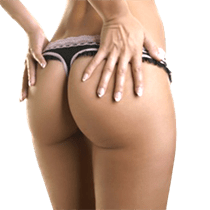 When suburban Atlanta women come to our offices in Atlanta or Alpharetta for body contouring consultations, we always discuss what to do with the fat that we remove. Whether as part of mommy makeover or as a primary procedure like a Brazilian Butt Lift (BBL) fat grafting has become a really useful tool. Today we discuss a bit about what it is , how it works, and if it may be right for you.
What is a fat graft?
We all have deposits of fat throughout our body that can be harvested. This can be done by direct excision, or more commonly with liposuction. In sucking out the fat we remove a bunch of different cells in addition to the fat. As soon as they are removed from the body they begin to die, but if we put them back into the body, in a new location, they may survive, similar to how a skin graft survives. First the surrounding area will give some nutrients to the fat, and over time the fat will "take" and reestablish its blood supply and become permanent. Now this is not a guaranteed phenomenon, but it is one that we know occurs on a microscopic scale. That means that if we inject fat throughout an area that has reasonable blood flow and is healthy a good amount of the fat injected can be expected to survive.
Can you inject fat anywhere?
The short answer is yes, but we generally want to inject the fat into areas that have good blood flow. That means areas like the face do very well, where the amount of fat that survives is greater than buttocks, which has less blood flow. We also can inject the breasts to create an augmentation without an implant. So we can inject fat pretty much anywhere you'd like it as long as we spread that fat out throughout the area. If you think about it, if we just put a big bolus of fat in spot it will take a long time for new blood flow and nutrients to reach the middle of that and there is a higher chance of loss of the fat graft. If we spread it throughout the area then more of the transferred fat is contacting the recipient area and can get nutrients and reestablish blood flow easier and with more reliability.
How much fat do you need to do a fat graft?
It depends on what you are trying to achieve. If we are grafting in the face we may only need small amounts to make big changes in contour. If we are trying to do a BBL on the other hand, we need a lot more fat to really change the contour. In our consultation, when we formulate a plan for contouring we try to determine a rough amount that will be needed to create the look you are hoping to achieve. We then look to see if you have that fat accessible.
I have tons of fat… right?
There are different types of fat, and there is also fat that is inaccessible. This means that while you may have deposits of fat in places you don't like, we may not be able to utilize them for grafting purposes. We know there is fat below the skin that is easily accessible but then there is also fat around our organs, which we can't harvest. In consultation we discuss the options, locations of fat we can access, and how that fat should perform.
Will all the transferred fat survive?
We wish it would but we can't guarantee that 100% of the transferred fat will survive. Depending on how we cleanse the fat and where we re-inject it back into you anywhere from 50-70% can be expected to survive. That means that some of the fat will go away and hopefully be reabsorbed by the body. If we inject too much in one spot, that fat may not survive and become a firm scar. And if some of the fat doesn't survive we may need to address that with another round of fat grafting to achieve the desired contour.
What are the risks?
When we first started fat grafting we would inject into muscle as well as below the skin as the muscle has a great blood supply. Unfortunately that led to some fat being inadvertently injected into a blood vessel causing embolism. As such, no board certified plastic surgeon does that anymore as the risk of significant injury from embolism can't be ignored. We now inject only in the subcutaneous plane which can still greatly change the contour of any treated area, but the risk, albeit small, remains of inadvertent injection into an area we do not intend it to.
Other risks that are far more common include contour irregularities where the fat doesn't survive and desire for more fullness, meaning that we may have to perform the procure more than once to achieve the look you want.
What is recovery like?
Recovery from fat grafting requires wearing a compression garment for the area where we harvested the fat from while at the same time allowing the area where we put the fat into to swell. Initially there will be bruising and swelling and the transferred fat may feel very firm. Over a few weeks as the fat "takes" and establishes new blood flow the swelling and firmness will resolve and the area will soften considerably. While the transferred fat is still firm we recommend no pressure be placed on the area, i.e. if you have fat transferred to your butt do not sit on your butt until the fat softens! If you sit on it early some of the fat may not survive.
Most patients are back to normal within 3-4 weeks depending on the volume of fat transferred and the amount of liposuction performed.
Still have questions –
We are always happy to answer your questions online and in person. You can also call one of our offices at (404) 476-8774 (Alpharetta & Atlanta) to schedule an appointment.
As a Triple Board Certified Plastic Surgeon I make sure to spend significant time with you to help you realize your goals. With my years of experience and technical expertise, I know that I am more than capable of providing you with a result that exceeds your expectations.