Male Plastic Surgery–Not Taboo Anymore!
Posted on October 1, 2019
By: Dr. Asaf Yalif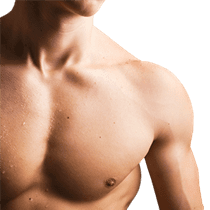 What was once uncommon and hidden behind closed doors has become mainstream! Men are now starting to explore their aesthetic options in an effort to look and feel their best, whether that calls for fillers or a facelift. When Atlanta-area men come to our plastic surgery offices in Atlanta or Alpharetta for consultations, they are curious about the latest trends and techniques to help them look and feel better. From nonsurgical to surgical there are many options available. Today's post is by no means exhaustive, but it does represent some of the more common themes our patients ask about and how we alter them for men.
Skincare and SPF
No discussion begins without mentioning the basics—skin care and sun protection. To help keep your skin in its best shape, we always recommend a skincare regimen and some form of sunscreen. We have options that aren't perfumed and some that are designed for men's skin. For SPF we always recommend at least a 15 or higher for your face. We don't want photo aging to make you look older or more haggard than you'd like to look. Robin, our aesthetician, is here to analyze your skin and formulate a plan for you.
BOTOX and Fillers
Obviously we all know about botox and fillers like Restylane® and JUVÉDERM®, but when we think about them for men we have to alter the approach just a bit. Most men want a chiseled look, and to help accomplish this, we may spend a bit more time working on defining lines rather than softening them as we would for a woman. Think about augmenting the jawline and brow BOTOX® to create a sharper look rather than cheek filler to make things "softer." Nonsurgical rhinoplasty with fillers is gaining steam as an option with essentially no downtime that can really correct issues with the nose shape. We approach all of these with your input to make sure that we address all of your concerns in the most natural way possible.
Facial Surgery
We have many options to help you look more youthful and/or alter your current look. From chin implants to full facelifts, there are procedures and implants designed and modified just for men. Techniques are carefully altered to keep your face looking masculine and to not alter your beard or hairline. Eyelids (blepharoplasty), nose jobs, etc. are all options depending on what bothers you. Recovery is fairly expeditious as well, with sutures being removed in about a week or two.
Body Surgery
There are many options here—liposuction to remove pockets of fat and help define muscular areas with "etching," a technique where we carve out anatomic areas to look more defined. If excess skin is the problem, we can try tightening the skin with laser liposuction versus doing a tummy tuck for men, where we keep the incision very low and hidden below your underwear or swimsuit line. Male breast tissue or gynecomastia is a fairly common problem that can also be addressed with either liposuction or traditional excision, depending on how severe yours may be. Here are some before-and-after photos of our patients' gynecomastia surgery results. We also have several implants available to augment areas to look more muscular. These range from calf implants to pectoral, to custom ones that can become quite expensive to manufacture. Unlike breast implants, which are gel-filled, these implants are solid silicone and are permanent in nature, like a chin implant.
Implant surgery has a fairly speedy recovery while liposuction and etching can take several weeks to months for the final result to become apparent.
Genital Enhancement
It is no secret that there are a number of blue pills to help enhance your experience in the bedroom, but what about the appearance of the area? In addition to urology procedures like penile implants, we now have operations designed to make the scrotum tighter and more youthful called a scrotoplasty. Using well-concealed incisions we can remove some of the excess skin and elevate the testicles and make a scrotum that is smaller and can also be more comfortable during exercise, running/biking, etc. Dr. Yalif has been performing this procedure for years and tailors it to the needs of his patients. He can also address a "web" or area where the testis pulls on the penis, blurring the separation between the two. Surgery on the genital area takes a few weeks to recover from, but the results are permanent. Here are a couple of examples. Of course, we also have testicular implants available if the need should arise, and a hernia repair or a varicocele (abnormal blood vessel) can be corrected at the same time.
Still have questions?
We are always happy to answer your questions online and in person. You can also call one of our offices at (404) 476-8774 (Alpharetta & Atlanta) to schedule an appointment.
As a triple board-certified plastic surgeon, I make sure to spend significant time with you to help you realize your goals in both surgical and nonsurgical enhancement. Our aesthetician is also here to help create a skincare regimen that will maintain your skin and improve the texture and fine lines and wrinkles. With our years of experience and technical expertise, I know that I am more than capable of providing you with a result that exceeds your expectations.